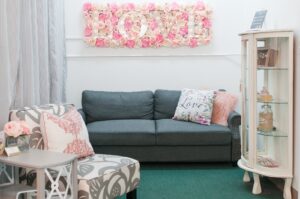 How it works
Boutiques throughout the country buy sample wedding dresses each season to showcase in their stores. Once the season ends, the sample dresses get replaced with new and current ones to show. Those replaced gowns become discontinued and that's when we snag them up!
We sell the sample designer wedding dresses 'Off the Rack' straight from these upscale Bridal Boutiques. Our prices range from 20-60% off retail prices and carry sizes 4-22. These wedding dresses have not been worn in an actual wedding but just tried on in their locations. If you want a gorgeous designer dress but don't want to pay a lot of money, than make an appointment today!
With that, our inventory is also ever changing. We are constantly obtaining new dresses from all over CT and the country. Once a dress sells, we can't get it back BUT we can replace with a new one for you!
Erica LaFerlita
Owner
Everyone always asks me why I opened The Savvy Bride. When I was a child,  I always knew I wanted to open my own boutique. However the bridal idea came much later. As I was planning my own wedding in 2014, I found that dress shopping did not come easy. I had a budget and a dream of a dress but I couldn't get the two to match. I visited some high profile bridal boutiques in NYC and was told my budget was too low. I needed to increase my spending limit in order to get what I wanted. When I was also in these boutiques, it didn't feel special. It was a crowded environment and there were brides everywhere. I felt rushed and if I was going to increase my budget, I should feel like the boutiques care about me and not just their next bride.
My mother lived in Texas at the time and we decided I would make the trip down there so we could go shopping together. In one of the first bridal boutiques we went to, I instantly felt at ease. It was laid back, there was room to move around and I was the only bride there. They catered to me and allowed me to try on as many dresses as I wanted. Once I found my dress, they put the volume of the music up and we danced and had fun. The best part was once I got to the counter and saw the price of my dream dress. It was even less than my original budget!
Once my wedding festivities were over, I thought why can't there be a place in CT like this for brides. Then The Savvy Bride was born. Here at The Savvy Bride, we have just one bride at a time. The bride has up to two hours to try on as many or as little gowns as she wants. I call it their "wedding closet". It is a relaxed environment and I can give them the one-on-one attention they deserve. As well as the shopping environment, I will stay within brides budgets. That's why I made the decision to only do designer sample wedding gowns. Samples are wedding gowns that have just been tried on at other upscale bridal boutiques throughout the country and are now discontinued. All of my gowns are pristine and in great condition and are off-the-rack, ready to take home today! Plus… they are all under $2000 which was the budget I had for my own wedding dress